Awards & Honors
May 2020 CO graduate named PRAM Student of the Year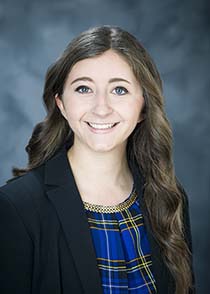 The Public Relations Association of Mississippi named recent 2020 graduate, Marisa Laudadio, its Student of the Year.
PRAM's naming Marisa Laudadio as its Student of the Year is a tremendous honor, and the faculty are quite proud of her. During her time at MSU, many professors praised Marisa's academic abilities, her pleasant demeanor, and her award-winning performance. Marisa was a member of the 1st place team that competed in the on-site public relations campaigns competition at the Southeast Journalism Conference this past February.
Marisa graduated in May with a double major in Political Science and Communication and double minors in Spanish and International Studies. During her time at MSU, Marisa served as president for the College of Arts & Sciences Ambassadors, Secretary General for MSU's Model United Nations program, an executive board member for PRSSA, and was part of the programming staff for New Maroon Camp. She was also involved in the Shackouls Honors College, the Latino Student Association, and Undergraduate Women in Business. Additionally, Marisa participated in undergraduate research and presented her findings at conferences across the country. Overall, Marisa represented MSU well in every aspect during her four years here as a student. Congratulations again, Marisa!