Awards & Honors
Reflector takes 'General Excellence' at MPA for second straight year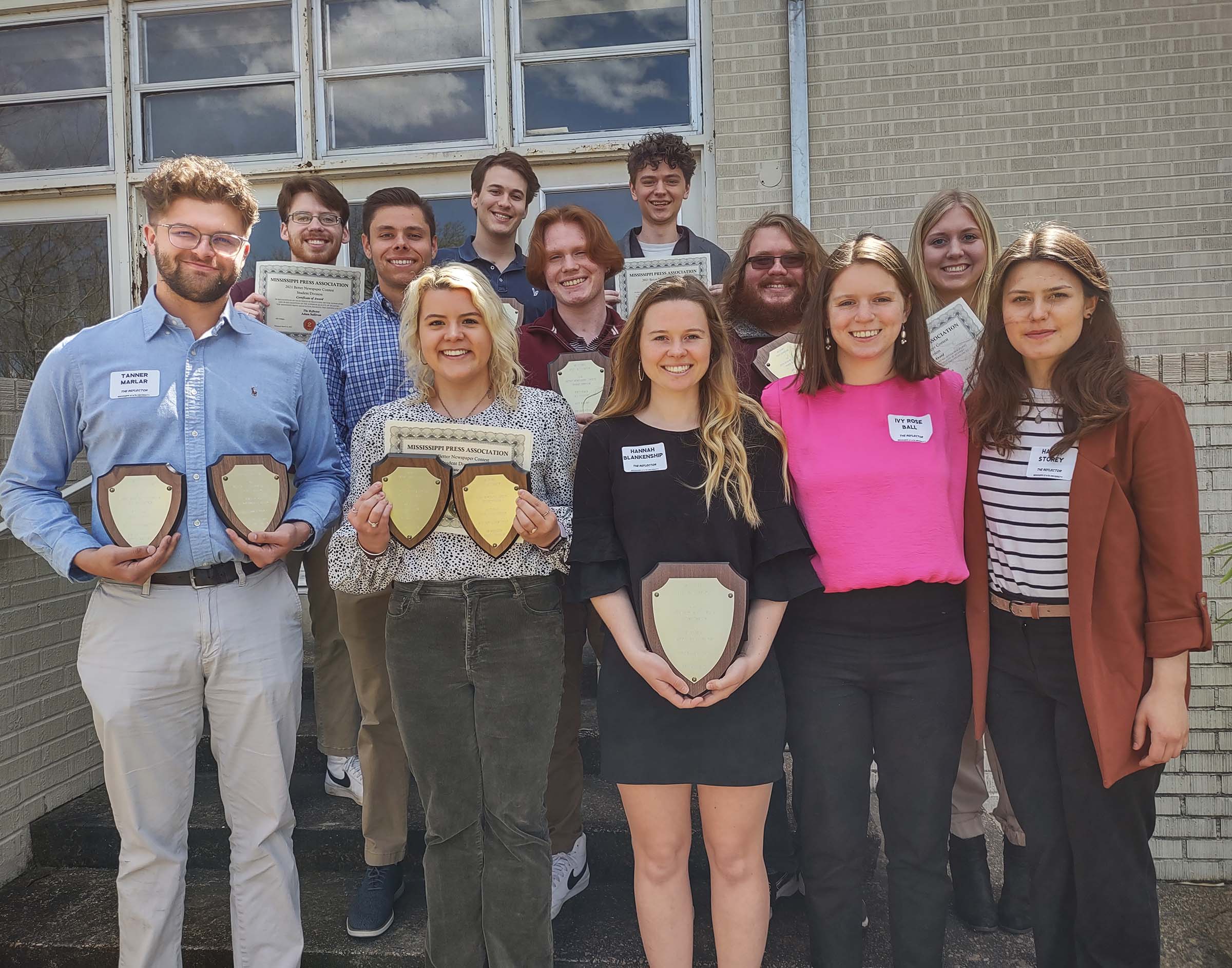 For the second year in a row, the Reflector won the top award at the O.C. McDavid Journalism Summit, held March 24 in Jackson. The Reflector beat the University of Southern Mississippi's Student Printz and the University of Mississippi's Daily Mississippian to earn first place in "General Excellence." 
In addition, Reflector staff members earned many of the summit's top awards — including for news and sports coverage, photography, and website. In all, the Reflector took home 12 first-place awards and 15 second and third-place awards. 
First place winners included: 
Heather Harrison, a junior Communication major from Hazlehurst, Miss., for General News Story 
Elizabeth Keen, a sophomore Communication major from Vicksburg, Miss., for Sports News Story 
Tanner Marlar, a junior Communication major from Kossuth, Miss., for Sports Column and Sports Feature 
Aaron Waterson, a senior English major from Murfreesboro, Tenn., for General Interest Column 
Hannah Blankenship, a senior Communication and Spanish major from Huntsville, Ala., for Feature Story 
Savannah Bonds, a 2021 Art graduate from Waveland, Miss., for Cartoon 
John Griffin, a senior Aerospace Engineering major from Savannah, Ga., for Feature Photo 
Joshua Stewart, a junior Communication major from Tupelo, Miss., for Series or Investigative Package 
The Reflector, for Front Page, Website, and General Excellence 
Other Reflector staff members who took home awards included Tara Smith, a junior Animal and Dairy Science major from Clarksville, Tenn.; Lydia Palmer, a senior Communication major from Louisville, Miss.; Luke Copley, a junior English major from New York City, N.Y.; Dontae Ball, a senior Art major from Louisville, Miss.; Adam Sullivan, a senior Communication major from Meridian, Miss., and Brennan Weaver, a junior Communication major from Lovelock, Nev. 
"I am so proud of our staff for all the hard work they have put in this year," said Blankenship, the outgoing editor-in-chief of the Reflector. "At MPA, we really saw that pay off in a big way." 
Joshua Britt, a sophomore Information Technology Services major from Memphis, Tenn., and the Reflector's online editor, accepted the award for best website. Britt led a redesign of the Reflector website earlier this year. 
"Winning best website is a great accomplishment, especially considering the amount of time and dedication spent tuning it," Britt said. "We received compliments on both our design and functionality, making the hours spent on both worth it." 
At the summit, 13 Mississippi State students ate sandwiches from Broad Street Bakery and listened to legendary Mississippi investigative journalist Jerry Mitchell. Mitchell, a MacArhur Genius Grant recipient, told stories about interviewing Klansmen, investigating corruption, and stalking a serial killer for an investigative series. 
"Wow — our students took it to the next level," said Josh Foreman, adviser to the Reflector. "This group of talented student journalists will be remembered for a long time." 
Full list of awards (CO majors bolded): 
1st General News Story – Heather Harrison
3rd General News Story – Hannah Blankenship
1st Sports News Story – Elizabeth Keen
2nd Sports News Story – Elizabeth Keen
1st Sports Column – Tanner Marlar
2nd Sports Column – Tara Smith
1st Sports Feature – Tanner Marlar
3rd Sports Feature – Lydia Palmer
1st General Interest Column – Aaron Waterson
2nd General Interest Column – Luke Copley
1st Feature Story – Hannah Blankenship
3rd Feature Story – Heather Harrison
1st Cartoon – Savannah Bonds
2nd Cartoon – Dontae Ball
3rd Cartoon – Savannah Bonds
3rd Spot News Photo – Joshua Stewart
2nd Sports Photo – Adam Sullivan
1st Feature Photo – John Griffin
3rd Advertisement – Brennan Weaver
1st Series or Investigative Package – Joshua Stewart
3rd Editorials – Luke Copley
3rd Design – Reflector
1st Front Page – Reflector
3rd Graphic – Heather Harrison
1st Website – Reflector
2nd Use of Social Media – Reflector
1st General Excellence – Reflector (2nd Student Printz, 3rd Daily Mississippian)