Awards & Honors
Foster wins 'Radio Broadcast' category at Society of Professional Journalists conference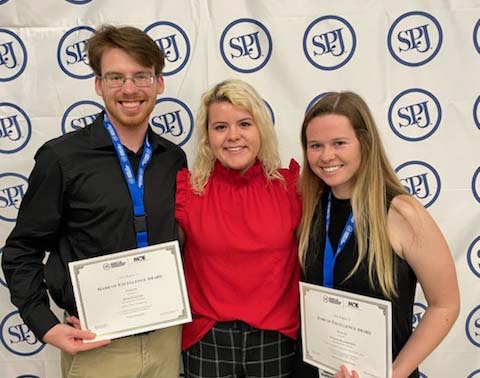 Ethan Foster was named winner of the "Radio Broadcast" category at the Society of Professional Journalists Region 12 conference on April 1-2. Foster's submission will move on to the national competition, where it will be judged against the best in college media. 
 
Foster won the award for his radio story, "A Performer at Heart: Metri Lyons." Lyons was "Bully" at Mississippi State athletic events, and Foster worked to tell the story of the student, who had overcome a lot of hardship to become a leader on campus. 
 
"This is the story of someone who has battled," Foster said. "I worked hard on that story. It took a lot of work and a lot of time. I was pleased with the way it turned out." 
 
Foster graduated in 2021 and now works as a producer at WTVA in Tupelo. 
 
Mississippi State earned several other awards at the conference, which was held at DeGray Lake Resort State Park in Arkansas. 
 
Foster was also a finalist in the "Radio News Reporting" category. 
Communication graduate Jada Evans was a finalist in the "Radio Feature" category. 
Take 30 was a finalist in the "Best All-Around Television Newscast" category. 
WMSV was a finalist in the "Best All-Around Radio Newscast" category. 
Senior Communication and Spanish major Hannah Blankenship was a finalist in the "General News Reporting" category.  
Senior Communication major Adam Sullivan was a finalist in the "Feature Photography" category.  
 
"Whenever I'm looking for great examples of photojournalism — say the New York Times or Washington Post — what those journalists do is include elements in their photos that help tell the story even if there were no words to go along with it," Sullivan said. 
 
The conference drew entries from universities in Arkansas, Louisiana, Tennessee and Mississippi. Mississippi State students competed against student journalists from Louisiana State University, the University of Mississippi, the University of Arkansas, Vanderbilt University, Loyola University, and several other schools. 
 
"I'm so glad we decided to compete at SPJ and push ourselves out there more," said Blankenship. "Knowing that there were probably lots of entries in each category from some of the best schools in the SEC makes any win very meaningful." 
 
Three Mississippi State students attended the conference. They got to learn from veteran journalists such as Gwen Moritz, longtime editor of Arkansas Business, George Jared, who produces a popular true-crime podcast, and Jerry Mitchell, the legendary Mississippi reporter who almost single handedly spurred the prosecution of serial killer Felix Vail. 
 
On the night before the conference, MSU students roasted wieners over a campfire with students from the University of Arkansas. The next day, they kayaked around the lake with students from LSU.