Awards & Honors
MSU Communication students win annual prestigious awards at PRAM conference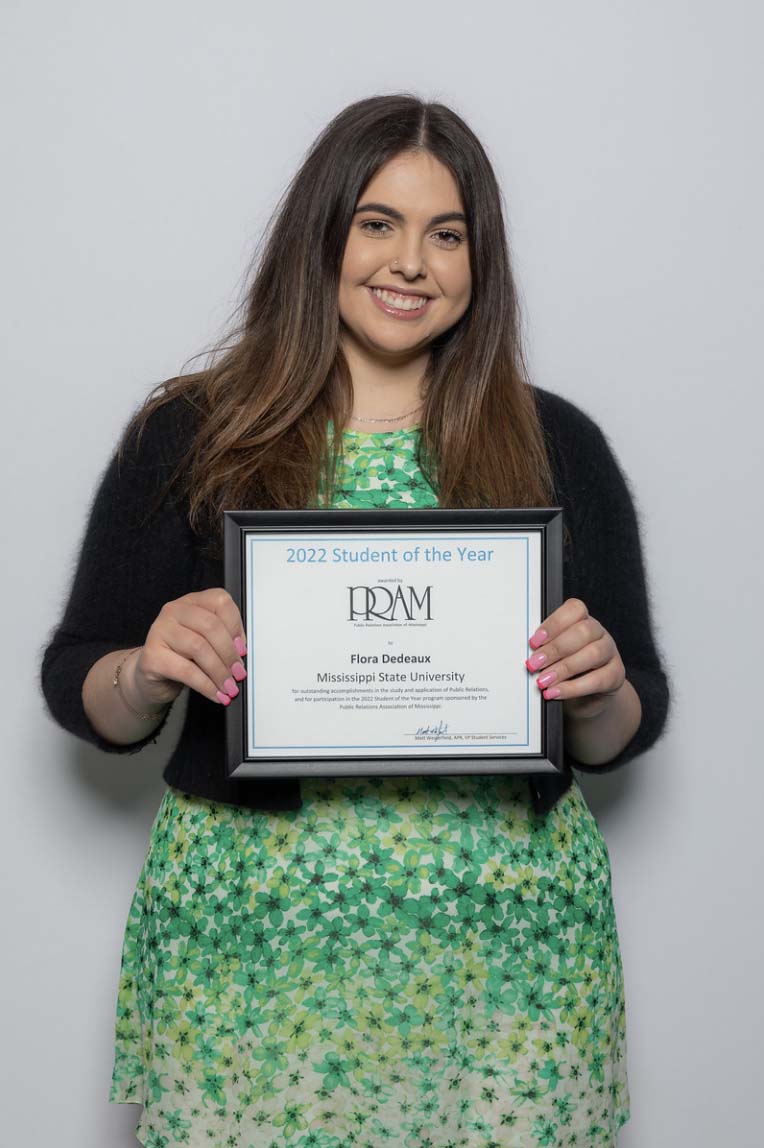 For the fifth year in a row, an MSU Department of Communication public relations concentration student has won the honor of Public Relations Association of Mississippi Student of the Year. Flora Dedeaux, a communication major double concentrating in public relations and broadcast & digital journalism, from Gulfport, Miss., received the 2022 PRAM Student of the Year.
Dr. Uyanga Bazaa, an assistant professor in public relations, nominated Dedeaux for the award.
"I nominated Flora for the PRAM's Student of the Year award because I thought she was a strong candidate with an impressive portfolio that showcased her professional, academic, and community service qualities. I am confident that Flora will find her footing in the music and entertainment industry's PR field and beyond," said Bazaa.
Dedeaux has grown exponentially as a public relations student, and she looks forward to using the knowledge she has gained as a student in a public relations in a role beyond graduation.
Dedeaux said, "I am incredibly drawn to public relations because I have found that it is so crucial to so many parts of our everyday life; it is not about spinning facts or hiding the truth, but developing strong, lasting relationships between organizations and the publics they serve. Mississippi State's communication department has prepared me tremendously for a job in this profession, giving me the knowledge, skills, and experience required to succeed. I am so thankful for the dedicated and accomplished professors that I have been able to learn from the past four years, and I am excited to apply everything I've learned to a job in public relations, hopefully in the music industry, as music is another area I am incredibly passionate about!"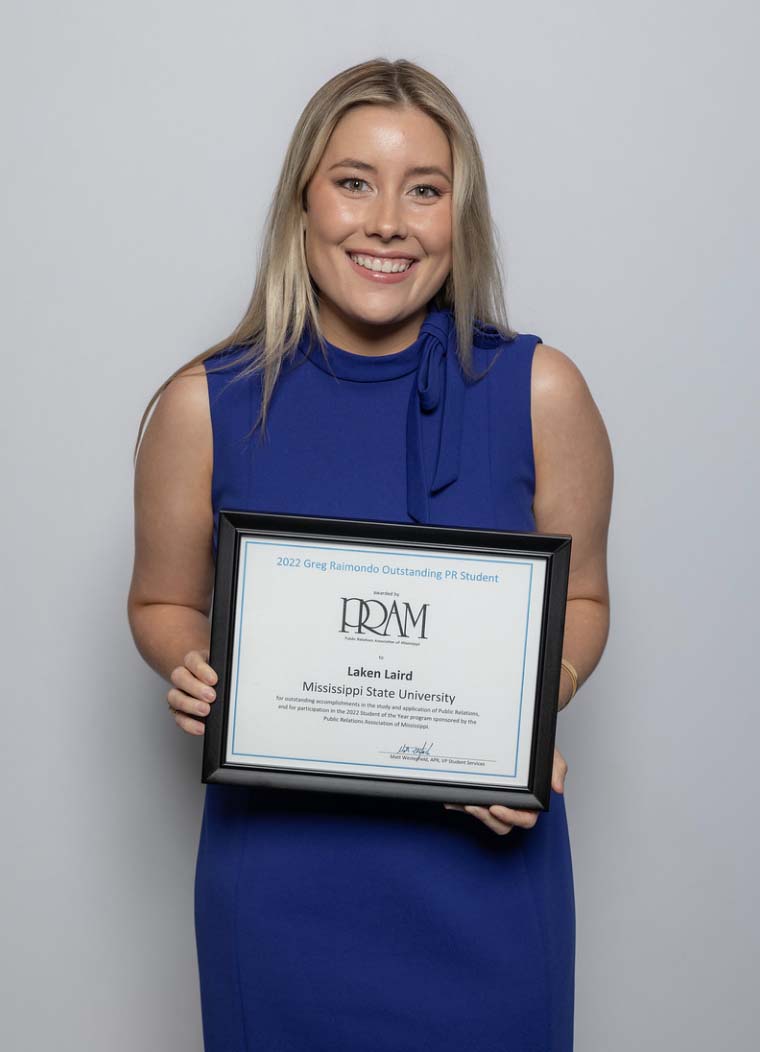 The 2022 Gregory Raimondo Outstanding PR Student, runner-up to Student of the Year, is public relations student Laken Laird.
Dr. John Forde, a professor in public relations, nominated Laird.
"Laken made herself known from the beginning in the Principles of Public Relations course she took from me and later in Public Relations Case Problems and the Certificate in Principles of Public Relations Preparation Course. Even though she took all of these courses during the middle of the pandemic while we were all wearing masks and staying socially distant, I still knew her well because she made it a point to ask engaging questions during almost every class period and to talk to me after class about pertinent topics. Not only were her grades stellar in each class, but she thought beyond the classroom topics and how information would apply to later aspects in her career. I am extremely confident she will excel in the public relations profession and if she chooses to attend graduate school," said Forde.
The Student of the Year award is bestowed to one student annually who exemplifies the public relations profession's professionalism, goals, and ideals. Nominees are judged by selected PRAM members, primarily members with their APR (accreditation in public relations), throughout Mississippi with no affiliation to any Mississippi higher-education institution. The judging criterion is based on academic excellence and academic honors, public relations activities and experience, campus involvement plus community activities, articulation of future goals, and a letter of recommendation from the student's nominating professor/instructor. 
The Student of the Year receives a $1,000 scholarship presented by CSpire. A second student is named the Greg Raimondo Outstanding PR Student and gets a $500 Scholarship from PRAM and PRAM River City.
Early in the spring 2022 semester, MSU PR faculty members worked together to identify exemplary graduating PR students to nominate to compete for the annual Student of the Year Award presented by the Public Relations Association of Mississippi (PRAM). Three PR seniors were identified based on their dedication to the field of public relations and exemplary leadership – on and off-campus. Each PR faculty member thought highly of each nominee's accomplishments, academic abilities, drive, and potential future contribution to the public relations field. To be nominated to compete against graduating PR students at other Mississippi universities or colleges for this award is a tremendous honor.