Awards & Honors
Two PRISM client projects win awards at 2022 PRAM Conference
Two MSU Public Relations & Integrated Student Media Agency client projects won awards at the 2022 PRism Awards Banquet as part of PRAM's 2022 Conference in Gulfport, Miss. 
The communication department's PRISM Agency assembled two of its most notable client campaigns and tactics from the past year to compete in Mississippi's premier public relations awards program. Their award-winning entries demonstrated knowledge and application of the public relations four-step process emphasizing research, planning, implementation, and evaluation. Each case study was a synopsis of the campaigns and tactics completed for PRISM's clients.  
"I am very proud of the honored PRISM case study submissions – the students did a fantastic job with their campaigns! This recognition is so deserving," stated Anna Blount, communication instructor and PRISM Agency Director.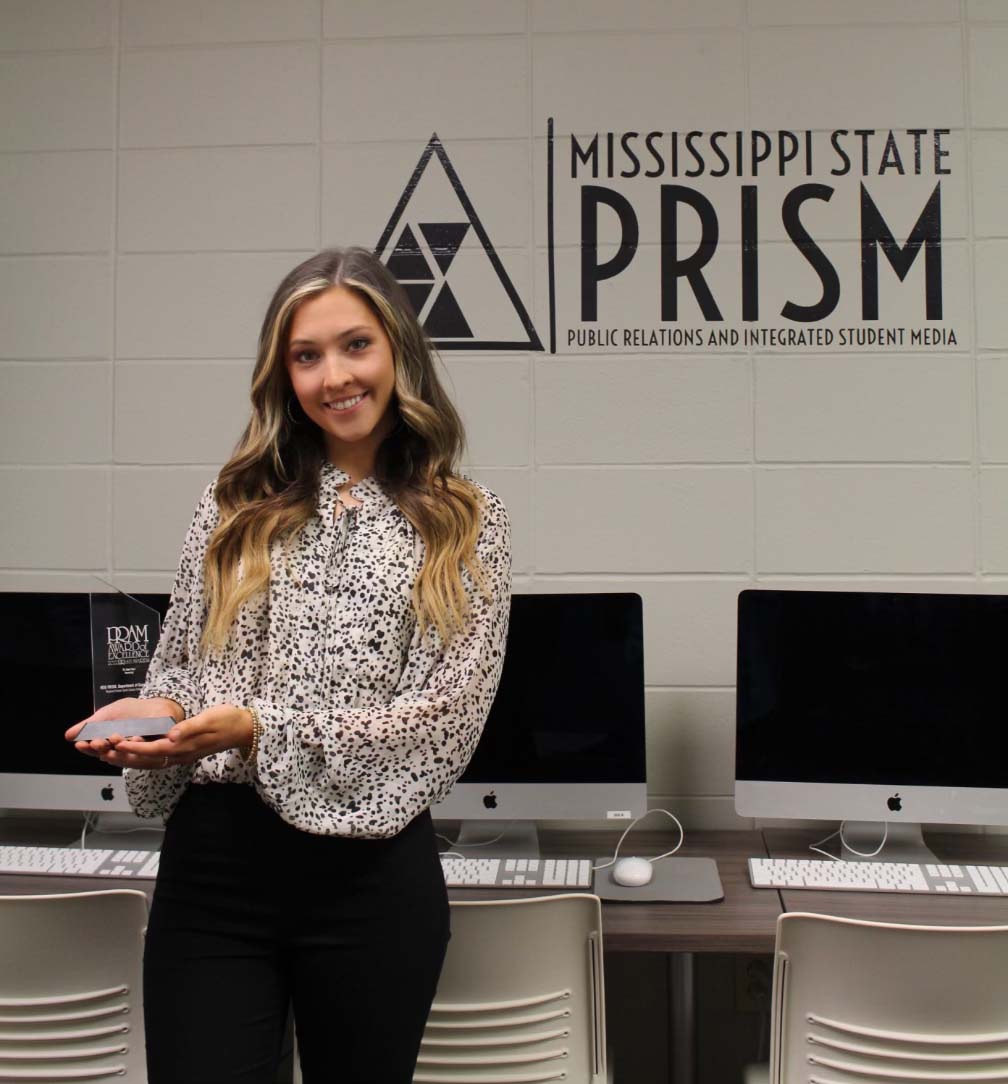 Award 1: Award of Excellence (Professional Awards Program)
Tier 2: Short Term Strategic Programs (6 months or less) < Marketing 
Brand Identity & Communication Plan: Office of the Provost and Executive Vice President 
MSU Students: Bryanna Trulove, Sarah Colvert, and Sophia Calderon
MSU PRISM: Department of Communication 
Synopsis of Project: The Office of the Provost and Executive Vice President commissioned PRISM to help raise awareness about general education and the services offered to current students, potential students, and faculty through identifying and branding general education. To achieve this goal, PRISM members worked over the spring 2021 semester to identify and establish a modern identity and brand for general education. In the end, the team created a push card and developed a guide for the deployment of the brand identity that would differentiate MSU from other institutions and expand its awareness and strengthen relationships with the key public.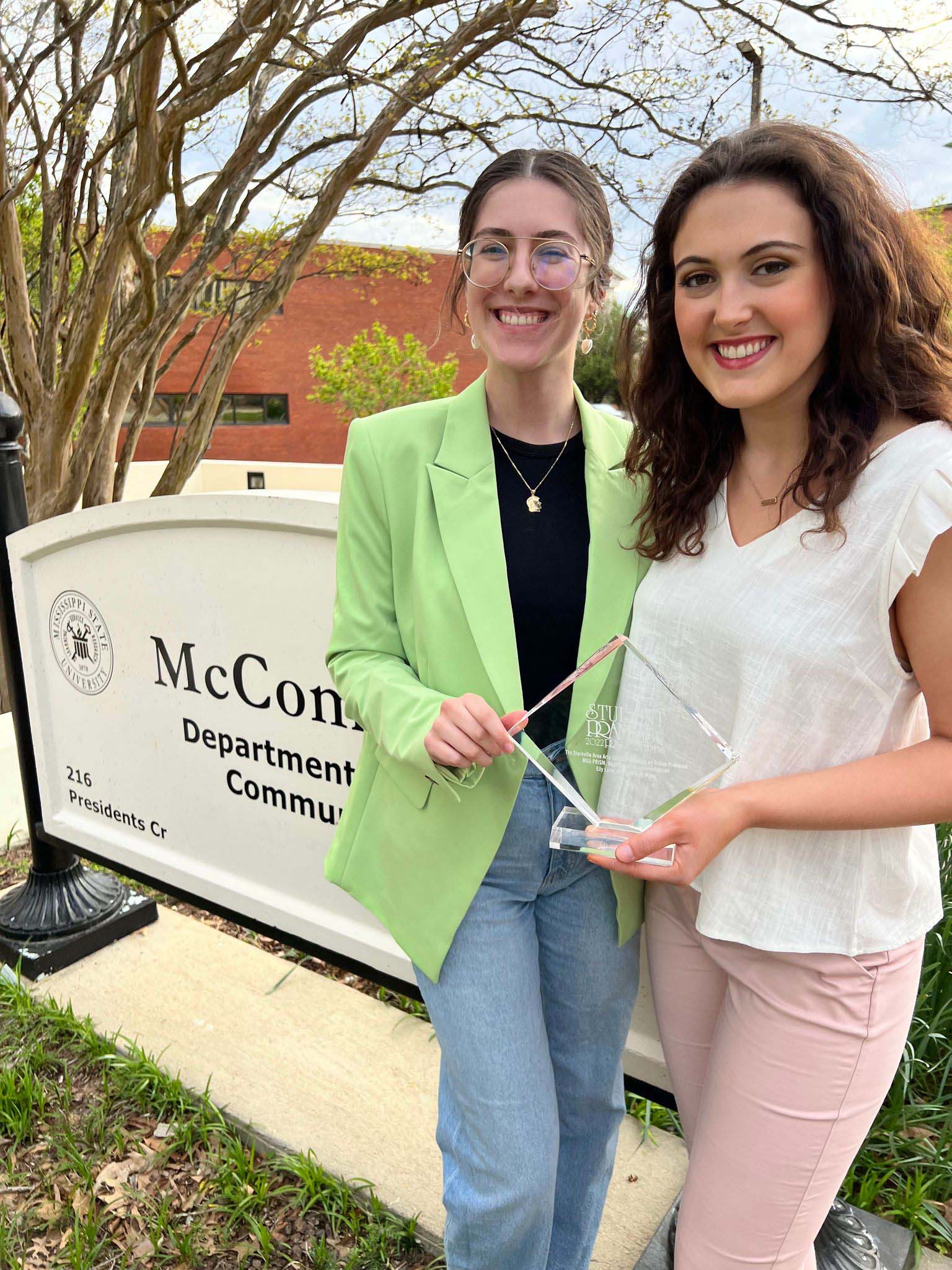 Award 2: Best of Show (Student Awards Program)
Student Campaigns 
The Starkville Area Arts Council: Curating an Online Presence 
MSU Students: Elly Lamb and Savannah Munn 
MSU PRISM: Department of Communication 
Synopsis of Project: The purpose of the Starkville Area Arts Council (SAAC) campaign was to curate a strong online presence and create awareness of the opportunities afforded to the Starkville community. The PRISM team accomplished this through developing and upholding consistency in the SAAC's social media aesthetic and the way content was published. Additionally, utilizing the research gained from conducting two focus groups, the PRISM team implemented website modifications to make the SAAC event information more organized, accessible, and user-friendly. These website modifications included updating, re-organizing, and reformatting the SAAC's previous public arts calendar and creating an online event submission form.
The PRAM PRism Awards Program began in 2003 to honor and recognize outstanding work in the field of public relations by practitioners within the state of Mississippi. Entries are judged by a reciprocal public relations chapter outside the geographical boundaries of the Southern Public Relations Federation — Mississippi, Alabama, Florida, and Louisiana.
Each entry is evaluated on its individual merit and scored on its adherence to the four-step RPIE
process. The top programs and projects are honored with PRism Awards, while other notable entries are recognized with Awards of Excellence and Certificates of Merit.
After the initial round of judging is complete, a panel of three APRs comparatively ranks the PRism winning entries in each tier to select the Best of Tier winner for long-term programs, short-term programs, and tactical projects. Once a winner is chosen in each tier, the judges comparatively rank those three entries to determine the Best of Show winner.
The Public Relations Association of Mississippi (PRAM) is comprised of over 500 public relations professionals from advertising and public relations agencies, corporations, nonprofit organizations, government, education, industries, and other companies. PRAM is a source of expertise and continuing education and a forum for networking with public relations practitioners throughout the state and region. The organization comprises nine local chapters and is a member organization of the Southern Public Relations Federation (SPRF).
The Public Relations Association of Mississippi's annual conference is hosted in a Mississippi city each spring and is PRAM's primary professional development event. Public relations professionals from around the state attend each year to connect with colleagues, obtain new ideas and perspectives and learn best practices that can immediately be implemented in their respective organizations.