Faculty Spotlight
Anna Blount
by Zoie Henson, student PR Intern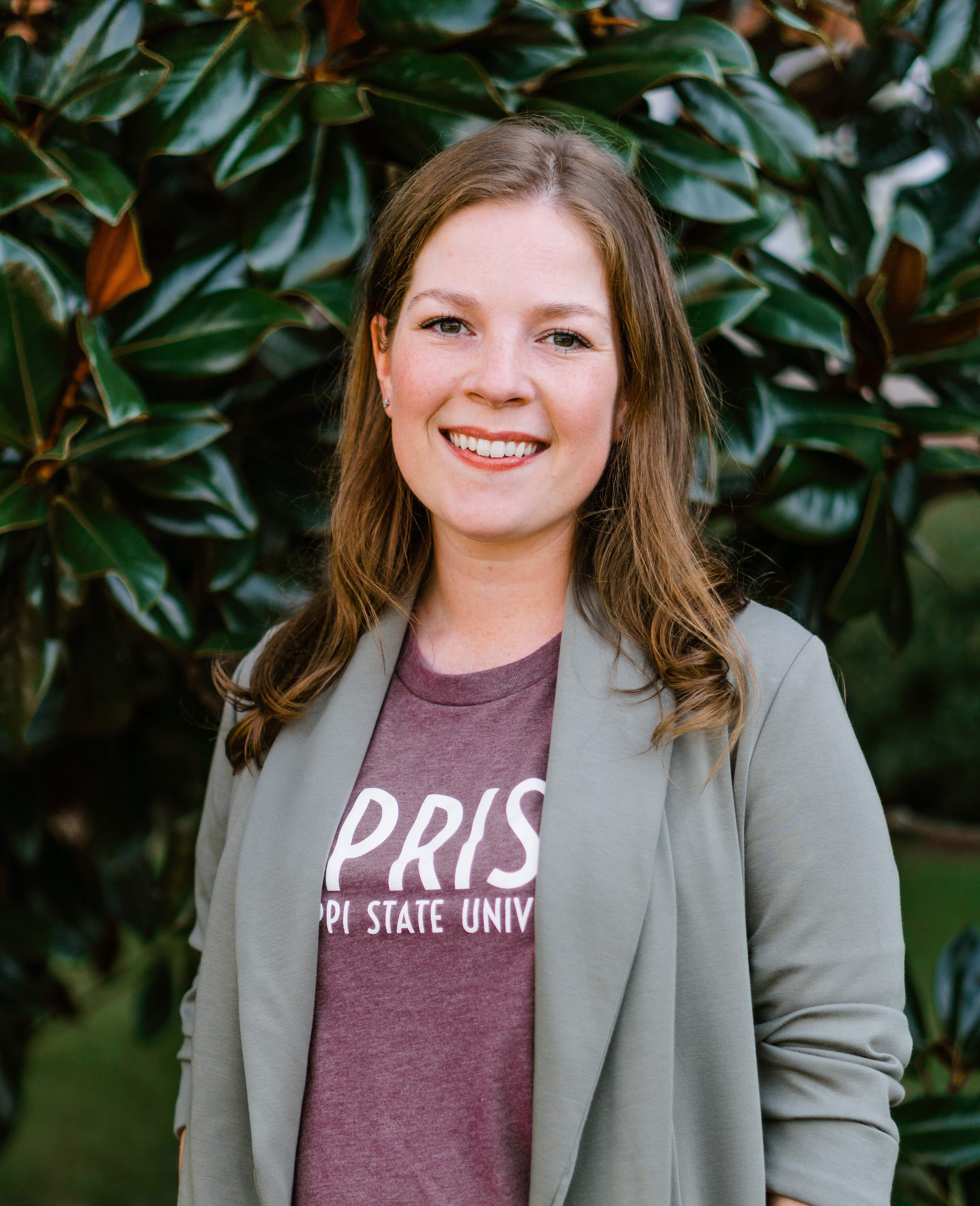 Anna Blount has been a member of Mississippi State University's Department of Communication faculty for seven years, but prior to that, she was a student in the department. She received her B.A. in Communication with a concentration in public relations, and she received her M.S. in Public Relations from the University of Southern Mississippi. 
Blount currently serves as director of our Public Relations Student Integrated Media agency. In this role, she helps instruct and guide our PRISM teams to complete a real-life, eight-week public relations campaigns. This semester's PRISM students are working for the Starkville Area Arts Council and The Magnolia Independent Film Festival. Blount is also helping to curate the 2022 edition of Story State, a one-day narrative festival that fosters innovative storytelling, where she oversees the contests portion.
Blount greatly enjoys how practical and providing the field of communication is, saying "I daily observe, and get to contribute, work that I believe brings good to the world. Whether through solid research, well-written content, or a beautifully-designed tactic, communication reaches into so many areas and touches our lives so deliberately. I'm grateful to be in a field of both practicality and purpose."
Blount was nominated to be featured in our spotlight campaign by a few of her students, one being Josh Riggs, who said, "Mrs. Blount is a fantastic teacher. She cares deeply for her students' success and strives to create the most informative and understanding learning environment that she can for us. I have already had her for one class and currently have her for another. If I could have her for any more classes, I would in a heartbeat."
Favorite memory in the Department of Communication?
Honestly, I have some great memories from when I was a student in this dßepartment. One would have to be just the journey of Orgs with my team and peers in 2013. Since then, some of my favorite memories have been when my husband and son have come to visit me at work. My son loves to explore McComas and run around the Drill Field. He says that he's going to come to school here one day, which warms my heart!
Best advice for communication students?
Make time to celebrate your success. Make time to celebrate your accomplishments. Your whole life for that matter! I'm not suggesting you throw a party every time you do something; I simply want to encourage all of us to stop, rest, and appreciate our lives. It's so easy to get into a routine that leaves us exhausted and barely pushing on to the next thing. It's so easy to get into a routine that leaves us with little enjoyment and much mental, physical, emotional, and spiritual fatigue; that's no way to live. Enjoy where you've been, where you are, and where you're headed. Don't underestimate the power in that!
Favorite part of being a professor?
My students and colleagues—the people are the best!
How do you spend your free time?
I love my husband and son so much. I love doing anything with my family and am blessed to have them. We love to get outside - play disc golf, walk, go to MSU football games. Being together anywhere is special and how I love to spend my free time.
Favorite spot in Starkville?
Starkville Café! It's a family favorite and holds so many good memories for my husband and I!
Do you have human or furry children?
I have a four-year-old son and another boy on the way (due January 2022). We also have a cat, Bruno.