Alumni Spotlight
Elizabeth Wingate
by Abbie Kate Hancock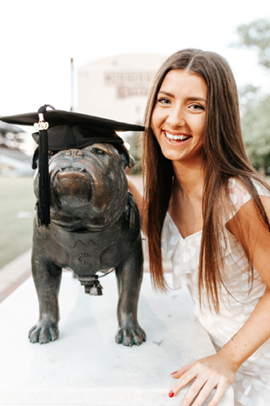 Elizabeth Grace Wingate graduated in May 2020 from MSU with a Bachelor of Arts in Communication with a concentration in Communication Studies.
She is from Franklin, Tenn., and now lives in Hoover, Ala. Wingate recently started a job with The Learning Tree Inc. in Pelham, Ala., where she is a residential instructor for students with disabilities.
Wingate was involved in the ACCESS Program at Mississippi State where she first took interest in working with children with disabilities. 
At her current job, she works to help her students live independently, achieve personal goals, and continue learning new things each day. 
"I help them with school and assist them in cooking, cleaning, bathing, exercising and much more," said Wingate.
Her advice is to look early when applying for jobs.
"Do a lot of research about what you're interested in, and see what jobs are related to it. Don't be afraid to ask teachers or older students for help," Wingate said.
Wingate will start graduate school this fall at the University of West Alabama where she will pursue a master's in Clinical Mental Health Counseling.
When applying for graduate school, Wingate's advice to undergraduate students is to think about who could give you a great recommendation and to not be afraid to let schools know you're a good fit.
As part of our alumni spotlight series, we ask each alumnus a set of fun, rapid fire questions about their time at MSU. Please see Wingate's responses below.
Favorite memory as a Communication student?
Audrey, Gates, Michael, and I used to sit together in Dr. Loehwing, Nicholson, and Seitz's class together every Tuesday and Thursday and we had a little group name. We always had fun and looked forward to seeing each other.
Favorite Communication class you took and why?
Nonverbal Communication because it is very useful (for everyone) and it's safe to say our non-verbal actions are more significant than our actual dialect. So it was interesting to learn about it.
Any funny stories about your time in McComas?
Too many! Next!
Favorite Communication professor and why?
Hard to say, loved them all, in different ways. Professor Giles Lindley is the kindest man I've ever met, also very insightful and helpful. Professor John Nicholson is someone I could talk, and listen, to for hours—very personable and quirky.
Preparation for graduate school and the workplace?
Dr. Forde and Dr. Lindley were most helpful in preparing for the future. Forde encouraged us to join clubs and organizations and get involved. Lindley helped in interviewing, applications, and overall presenting yourself to job opportunities.