Alumni Spotlight
Madalyn Kay Bass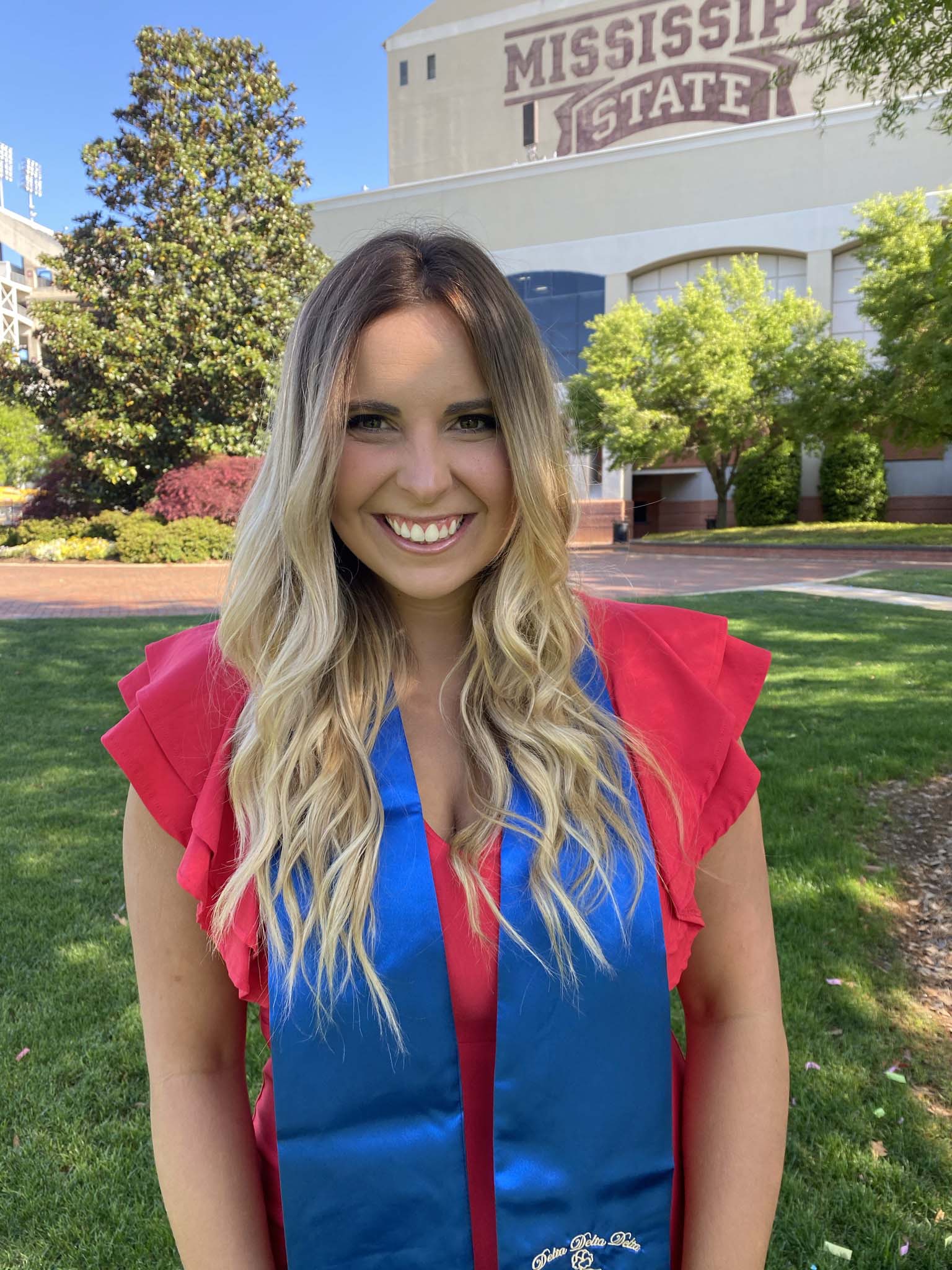 by Abbie Kate Hancock
Madalyn Kay Bass received her Bachelor of Arts in Communication with a concentration in Communication Studies Spring 2021. She is a Pensacola, Fla., native, and has plans to move to Orlando in the near future post-graduation. 
Bass will attend graduate school in the fall at the University of West Florida where she plans to pursue a Master of Arts in Strategic Communication and Leadership.
Her advice to students beginning their graduate school applications is to reach out and build relationships with professors and mentors, which will be helpful with securing letters of recommendation.
"Try to stand out when answering application questions and mention your goals and aspirations and how the program you are applying to will you help you reach them. Show the program why you are passionate about the field," Bass said.
Bass spent a semester interning with the Disney College Program in 2019, where she fell in love with all things Disney. Her dream after finishing her master's is to work full-time for Disney.
After finishing her graduate program, Bass hopes to return to Disney and teach classes at Disney University while also working with Disney's recruiting team.
During her time at MSU, Bass worked on campus for four years as a Call Center Ambassador for the Mississippi State University Career Center. She also shadowed Karyn Brown, Director of Communication for the College of Arts & Sciences, to observe her leadership in the workplace. These experiences cemented Bass's decision to pursue her master's in strategic communication.
Favorite memory as a communication student?
My favorite memory was sitting in Mrs. Amy Knight's Interpersonal communication class during my sophomore year and getting the email that I had been accepted into the Disney College Program after 3 months of waiting. I immediately started crying in class. 
Favorite communication class and why?
I loved Nonverbal Communication with Dr. Nicholson! Not only was it entertaining, but I learned so much about how my nonverbal behaviors can have effects on my personal and professional life.
Favorite communication professor and why?
I loved all of my professors, but the two that come to mind is Dr. Holli Seitz and Dr. John Nicholson. Dr. Seitz has also been my advisor and I always looked up to her and admired her attitude. I had Dr. Nicholas for 4 classes over the past 4 years and they were always entertaining and I learned so much. His lectures are never boring, he always shares funny stories and is extremely engaging. 
Preparation for the grad school?
I definitely learned time management and how to apply the lessons to real life situations. Specifically, small group dynamics was something I was nervous for in the workplace, but I feel more confident than ever after my communication classes here at MSU.