Student Spotlight
Maggie McKinnis
by Zoie Henson, student PR Intern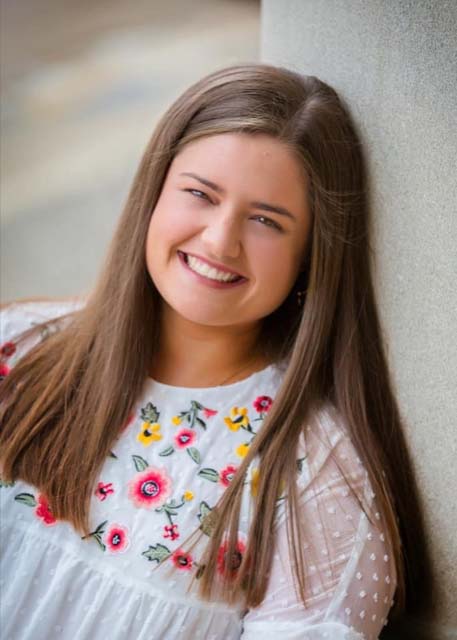 Maggie McKinnis is a junior majoring in communication with a concentration in communication & media studies. A native of Madison, Miss., McKinnis is currently involved in Chi Omega sorority, Roadrunners, Dresses of Hope, Phi Kappa Phi Honor Society, Golden Key Honor Society, Pinelake College Starkville, and the Enneagram Club. After graduating, McKinnis dreams of working in higher education, especially if she could work in Student Affairs or Admissions at Mississippi State University. 
McKinnis was nominated by her professor, Dr. Pete Smith, who said, "Maggie McKinnis embodies the CMST identity—she's engaging and dynamic; she's not afraid to engage in critical thinking, and she possess a strong willingness to learn and polish her communication skills. I can see her of being of great value to some company or organization in the future."
Reason for choosing communication?
I chose Communication because I knew my end goal, regardless of my future career, was to be become a more efficient, inclusive, and sociable communicator. This department has already equipped me to communicate better in all kinds of different settings and situations.
Best advice you've received from a professor?
One time, Dr. Amy Knight taught in class that no one is completely effective in all situations at all times. As someone who loves to be helpful and involved, it was a wakeup call that I am sometimes only asked to be still and present.
Best memory in the Department of Communication?
My favorite memory in the Department of Communication was getting to work in the Main Office this past summer. It was so special to learn more about how the department operates and get to know some of the incredible people who work to make my academic experience so rewarding. I saw very quickly that they are all so personable, helpful, and dedicated to every student.
Advice for incoming communication students?
Get to know your professors! I have had nothing but amazing and enriching experiences with all of my communication professors. They are personable, fun, engaging, and truly want what is best for each and every one of their students.
If you were singing karaoke, what song would you pick to sing?
Somebody to Love (Glee Version) 
If you could only eat one meal for the rest of your life, what would it be?
My Aunt Robbie's jambalaya
Most interesting thing you've read, watched or listened to lately?
My Introduction to Old Testament lectures with Albert Bisson this semester have been very interesting! I come back from class everyday feeling as if I learned something new or gained a new perspective on something I already knew.
If you didn't have to sleep, what would you do with that extra time?
I would road trip to see and spend time with all the people I love!!