Tournaments at MSU
The Cowbell Classic had its initial run in February 2017, featuring 20 high schools from Mississippi and Tennessee. The Classic is a varsity tournament offering all NSDA and MHSAA events in speech and debate, along with debate and overall sweeps, top speaker awards, and debate speaker awards. Entries are accepted through Tabroom.
The seventh annual Cowbell Classic is set for January 12-13, 2024, on campus in Starkville. We would love to have your team join us for a weekend of great competition. For more information, contact Brett Harvey at brett.harvey@msstate.edu.
The Stennis Novice Tournament is an annual tradition on MSU's campus, sponsored and hosted each fall by the Stennis Center for Public Service. The Novice Tournament offers a unique opportunity for high school students in their first year of competition to compete in debate and individual events, attend workshops with top coaches, and generally hone their skills in a friendly and educational environment.
---
The Martin Luther King Jr. Oratorical Contest
Dr. Stephen Middleton created the Martin Luther King, Jr. Oratorical Contest in 2014. The MSU Speech & Debate Council joined as a partner running this contest in 2016. Contestants write and perform an original speech to be performed in front of judges. The goal of the speech is to celebrate the life of Dr. King or the legacy he left.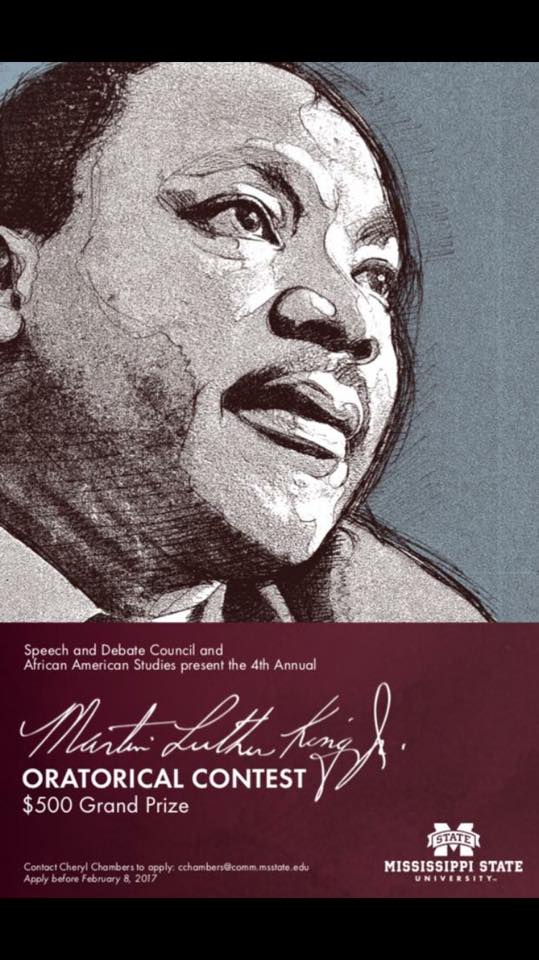 ---
Campus Debates
One of the goals of the MSU Speech & Debate Council is to spark discourse on the MSU Campus. Hosting political debates allows students to engage in public discourse, improve public speaking skills, and inform and persuade their fellow classmates. The Mock Presidential Debate, held in November 2016, was a huge success. By partnering with the Student Association, the Council hosted over 500 students and community members to watch a fair and balanced debate with three major political parties represented. Debaters were recruited from the College Democrats, the College Republicans, and the Young Americans for Liberty. The former mayor of Columbus, Jeffrey Rupp, moderated the debate and Starkville's then mayor, Parker Wiseman, gave an address. Audience members were even invited to submit their own wildcard questions for the participants to discuss.